How to Clean Your Office Chair



As with every type of furniture, your office chair needs a good clean every once in awhile. However, it can be hard to know just how to approach the task with so many different types of office chair upholstery on the market, including fabric, mesh, vinyl and leather.
If it's your first time cleaning your office chair or you'd simply like to ensure that you've been doing it right all along, check out our handy guide on how to clean your office chair!
Fabric
A wide variety of fabrics are used in the manufacture of office chairs, so the cleaning products and methods used can vary from chair to chair. It is often best to consult your owner's manual before trying your hand at cleaning your chair. However, as a general rule of thumb, a regular vacuum can remove a good portion of everyday dirt and dust, and it's always best to treat any spills as soon as they happen. If you do decide to use a commercial upholstery product, follow the instructions closely and be sure to scrub lightly with a soft brush or cloth to prevent abrasion to the fabric surface. As with any fabric, mild cleaning products are the best to start with as harsh chemicals may discolour dyed fabrics.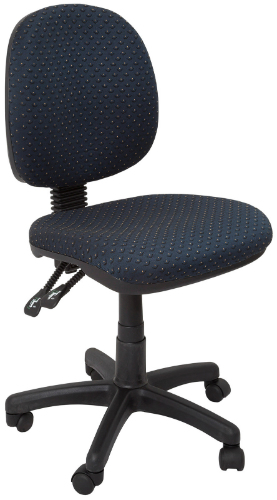 Mesh
Arguably one of the most comfortable types of upholstery in terms breathability and its ability to mould to the user's body, mesh fabric also requires attention from time to time. Most dirt, dust and surface debris can be removed with the use of a regular vacuum cleaner, while spills on the fabric can be attended to with a soft cloth and a mix of soap and warm water. If removing stains with the water-soap mix, ensure you use a dabbing motion to do so to help prevent the mesh from fraying.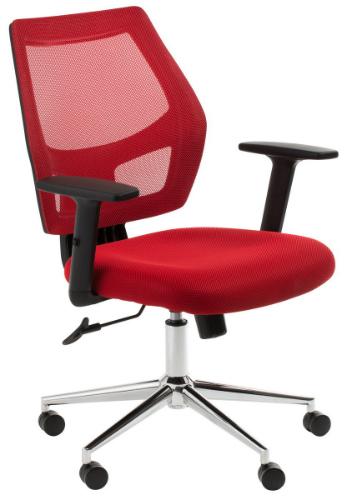 Leather
Leather, one of the more expensive choices for office chair upholstery, needs regular care to keep it looking its best. Give your leather chair a quick wipe-down with a lint and pigment-free cloth to get rid of any dirt that may have accumulated and be sure to vacuum regularly with a soft brush attachment to remove debris that could scratch the upholstery surface. If your chair requires a deeper clean, mixing a few drops of liquid soap with 1 litre of water can give you a good, mild cleaner. Moisten a clean lint-free cloth with the cleaning mix and wipe the areas of the chair that require cleaning. Wipe these areas with another clean lint-free cloth to dry.
Vinyl and Polyurethane
A low maintenance fabric choice, vinyl and polyurethane are among the easiest to clean and maintain. For surface stains, mixing a small amount of mild soap with water is generally a good starting point. Use a soft lint-free cloth to wipe the area of concern with the water-soap mix and then dry with another soft lint-free cloth. Some stubborn stains may require specialised cleaning products, so be sure to consult your owner's manual before making use of harsher chemicals.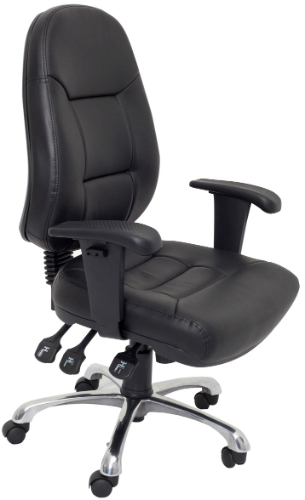 General Tips
Legs and armrests can generally be cleaned with an all purpose cleaner. Simply spray the cleaning product onto a soft cloth and wipe the surface clean.
As with any item, it is best to consult the relevant owner's manual and cleaning guides before applying any cleaning products. Some types of upholstery, such as leather and fabric, may be easily ruined by using unsuitable products.
It's always best to attend to stains as soon as possible to give you the highest chance of restoring the fabric to its original condition. If stains are left too long, they can become set-in and almost impossible to remove.
To prevent unnecessary damage to the fabric of your chair, start with the mildest treatments available and then work your way up to stronger remedies.
Be sure to patch test cleaning products that you haven't used before prior to using them across the entirety of your chair. An inconspicuous spot hidden from view can be a great testing area.
Wanting to update your office chair? Find a great range of office chairs in stock at Office Stock!
---
Leave a comment