Interior Design Bloggers Share Their Home Office Design Predictions



Looking for some design inspiration for your home office? We reached out to some of our favourite interior design bloggers and asked what they thought were the next big trends in home office decoration and design.
Check out their predictions below:

While office spaces come in all forms at the moment, you can't beat classic monochrome. Black and white acts as the perfect starting point for adding personality into your workspace. A black and white base can be kept simple and Scandinavian by adding a touch of blonde timber, softened with some grey or pastel toned texture, or kept chic and minimal on its own.
Added greenery not only lifts the space with deep emerald foliage, but can also lift your mood and improve air quality for a more efficient workspace. Artwork is a necessity and can be kept simple with monochrome prints, typography and photos mixed as a gallery style backdrop. Alternatively the wall can be utilised as a more flexible, changing mood board for inspiration. Whatever your space, make it your own, don't follow trends that you don't love and you really can't go wrong.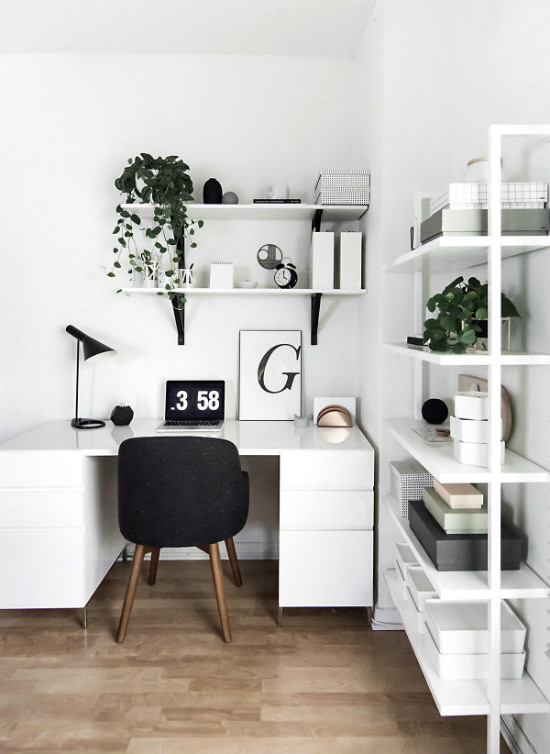 Image Credit: Homey Oh My!
The office nook is just as important as the other rooms in your home. If you work from home, then this space is where you spend a considerable amount of time and therefore it needs to be well planned, well-designed and of course aesthetically pleasing.
According to Pantone's colour trends for 2017, workspace colour will be a stress-reducing and sophisticated palette of grayed out muted neutrals, both cool and warm.
The workspace decor will incorporate a homogenous mix of colour and design with the use of multi layers of tactile surfaces such as various textiles, maybe a cork board feature wall and a thick rug.
Reusing and re-purposing of materials will be popular and there will be influences of several shades of green in decor, soft furnishings and accessories to create a subtly luxurious environment with a strong connection to nature.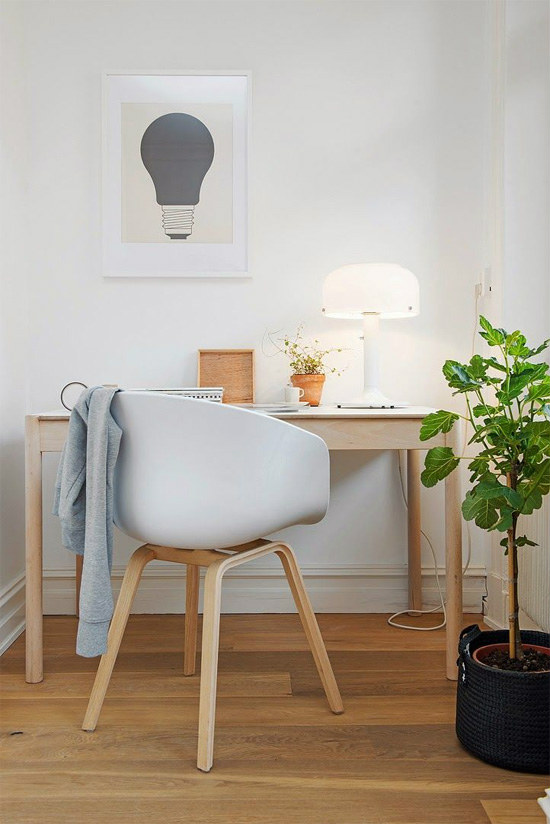 Image Credit: Design and Form.
The home office used to be a corner of the kitchen or half of an unloved spare bedroom but as our working patterns have been driven by the changes in technology so many of us now work from home, at least on a part-time basis. Clients therefore ask me to place as much importance upon the fit out of a home office as a living or dining area. I believe that the big changes are:
1. Home offices will be larger and will be decorated with as much thought and care as other areas. With wireless technological advances, pesky cables that we have seen in the past will disappear ensuring the space looks more like a normal room.
2. Personality will be injected into the space with the addition of sofas and chairs to meet with clients or as a comfortable place simply to read through documents.
3. Contemporary clean lines are important for a working environment that is conducive to productivity so adequate storage will become very important to hide away the necessary clutter that comes with an office.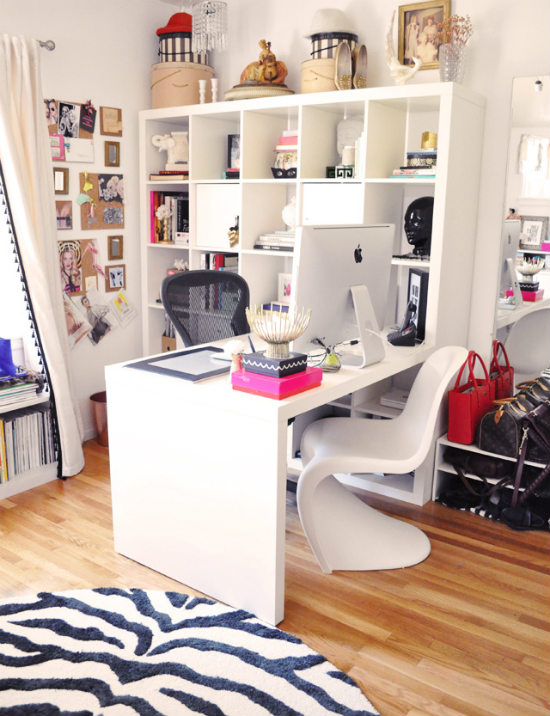 Image Credit: Maegan Tintari.
Thinking about refreshing your home office? Check out the huge range of desks, chairs, and more, in stock at Office Stock.
---
Leave a comment