Commercial Orders
Commercial Orders
Office Stock is partnered with leading Australian fitout providers which allows us to offer an extensive range of services in addition to our office furniture range. We can handle your project from design to completion.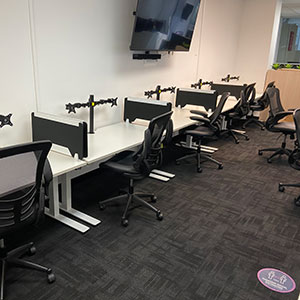 "You have been amazing to deal with and the fit out crew were just incredible!!"
Natalie Hastings - Hastings & Co

Easy Process
We are proud to offer a fast & easy quotation process for your project.
Quality
We don't compromise on quality and offer commercial grade furniture.

Durable
Most furniture has 5-10 years of warranty.

Australian Owned & Operated

Value Guaranteed

Customer Support

Fast and Secure
Office Furniture at Commercial Prices
Commercial Projects
Commercial Projects
Our services include design, construction, and office furniture for a variety of industries and business types.
Revamp Hotels, Cafés, Retail
Revamp Hotels, Cafés, Retail
Whether you're planning a big office move or a minor renovation to your café or retail store, make sure you choose the right fit out company that will help you create the right environment.
Commercial Fitout
Commercial Fitout
Commercial Fitout services and products to help your business reach its maximum potential. From electrical and carpentry, to flat pack assembly, partitioning, construction and services integration - we can help you create the best fit-out possible.
Professional One-stop Source for All Your Fit-out Needs
FREE 3D Layout
Services integration
Carpentry
Flat pack assembly
Construction
Partitioning
I would highly recommend Office Stock. They have great customer service and everyone was very helpful. Communication was fantastic. A professional team with great products.
Brett Morris
Office Stock is a fantastic company to deal with. Everything went smoothly. We couldn't be happier. And the product is great quality and well priced.
Kym Mullins
Office Stock are the ultimate professional Australian Company with centres in each state and prompt, excellent communication with customers on purchases, delivery and assembly/installation of well made long-lasting products. All deliveries to date and Company associates, particularly the Office Stock Project & Logistics Manager are thoughtful, polite and professional. Highly recommended.
Lynne Roberts-goodwin