Complete Review of Our Free Standing Office Partition Divider Screens
Author: Matthew Lee Date Posted:3 November 2017



It goes without saying that one of our most popular products within our range of Office furniture are our Free Standing Office Partition Screens, and it's easy to understand why.
We all know how light, bright and airy an open plan office can feel. Infact this way of working has been universally acknowledged as promoting collaboration, team spirit and bonding, and helping the flow of work processes.
For employees on a day to day basis, however, it can pose some challenges such as finding a sense of privacy, creating a place away from distractions and all the goings on in a busy office environment.
One way to give employees the ability to do this is simply to provide office partition divider screens. While these can be fixed – either as walls or desk dividers – having portable, free standing divider screens can give workers more options.
What Makes our Divider Screens so Great?
Free standing divider screens are especially attractive due to their low cost and the fact that they're generally recommended as the more flexible choice in an open plan office.
Here at Office Stock we've literally sold thousands of our divider screens right across the country, and seen them used in a number of different ways, including:
To partition off impromptu meeting or quiet rooms
For defining office departments or school classes
To create privacy at a desk or for a group of employees working together on a project
To help protect against distractions in high traffic areas such as entrance ways or near photocopiers or bathrooms
To create a wall for security purposes, protecting sensitive information (particularly useful in areas that may contain HR, billing or payroll information)
To provide walls for branding purposes, or as areas to display information
To create a welcoming and bright environment for employees
As a useful place to store items
To provide flexible work or information areas in a range of environments including educational facilities
As you can see, our divider screens are often used in a number of different ways, each serving their own purpose.
As shown, our office partitions are an ideal addition to any workspace, giving you the flexibility you need with high quality professional office equipment. They have been designed to meet the needs of all types of workplaces – from government organisations, educational facilities such as schools, as well as corporate offices.

Frequently Asked Questions about Our Divider Screens
Having said all of that, we've received countless questions about our divider screens ranging from sizes, to colours, to delivery times, assembly, suitable applications and more.
So let's take a quick look over some of the most frequently asked questions we receive about our free standing divider screens that will hopefully help you make a better, more informed buying decision.

What are the free standing divider screens made of?
Our movable office partition dividers are made out of a base of hard foam, wrapped in hard wearing fabric on both sides, and finished with a tough edging of black PVC around the edges.
This construction method means it makes the screens:
Sturdy and long lasting.
Light and easy to manoeuvre. This is important so that people will feel comfortable moving the screens from place to place if necessary.
Easy to keep clean.
Pinnable. Not all office dividers can be used with pins, and this will affect how people will be able to use them, and because there is fabric on both sides of the screen, it can be used in a variety of ways.
The high density foam is designed as a noise suppressor, so they will provide some protection against noisy environments such as photocopiers or break out areas.

Are the divider screens pinnable? Can I put posters on the screens or pin things to them?
This is certainly a question that we get a lot here at Office Stock, namely from Schools and other organisations that want to use the divider screens not only to partition floor space, but to also act as potential display boards.
As mentioned, the simple answer is yes. The dense foam material that the boards are constructed from are perfect for pinning posters, photos, documents, calendars and other similar items on as desired.
We don't sell the pins, but they are usually readily available from most news agencies.

How heavy are the divider screens?
Being a free standing screen, it only makes sense to know that they can be easily manoeuvred freely within the workplace, without the need of several people or any type of trolley or lifting equipment.
Our screens are relatively light in relation to their size. The free standing office partition divider screens range in weight from around 15 kilos for the smaller screens and up to 20 kilos for the largest size.
For practicality and basic safety reasons, we recommend that two people lift each end of the screens when moving them to ensure no damage to the screens themselves and to make moving them easier and more efficient.
We also recommend that you lift the screens as opposed to "dragging" them as to not damage or dislodge the feet.
Can we buy the feet separately?
Even though we don't publicly list the feet for sale as standalone items, you can purchase them from us if your feet become damaged or lost over time.

Do the free standing divider screens come with castor wheels?
Unfortunately this particular screen doesn't come with castor wheels, but we do stock a range that does. Our Rapid Mobile Acoustic Divider Screen. These can be useful in situations where you need to move your screens around on a regular basis. Generally we recommend having a combination of both the screens with and without caster wheels to give you maximum flexibility.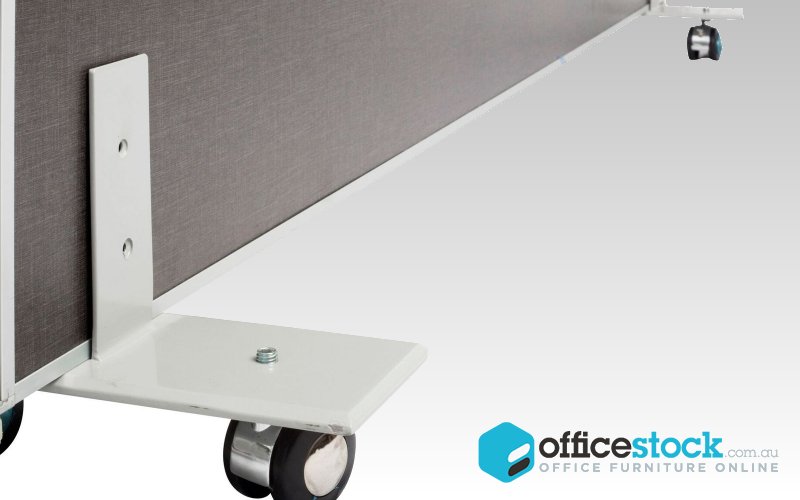 Can I use velcro to stick things on the divider screens?
We haven't actually tested this, but our best guess is that pins would be much more practical than Velcro. Its not likely that the Velcro would stick.

Do these divider screens come in any other sizes?
To accommodate a wide range of uses, we offer 4 different configurations for sizing – from our smallest at 1500W x 1500H, 1500W x 1800H and 1800W x 1500H, to our largest screen at 1800W x 1800H. In terms of custom sizes, we only supply what you see on our site.

Are there any other colours available other than blue or grey?
It should be noted that we're often asked if we stock additional colours, or if we can supply divider screens made to order using custom colours. At this point in time we don't sell other colours other than blue or grey, (which are ideal colours that fit in well with most modern décor) and we don't supply or manufacture divider screens using custom colours.

Assembly
Just like most of our office furniture, we receive a lot of questions that touch on assembly. In terms of our free standing divider screens its really no different.
Here are the most popular ones.

How difficulty is assembly?
Assembly is very easy and can be performed by anyone capable of using a drill, screwdriver or screw gun.
What's involved in terms of assembly of the divider screens?
We recommend using a handheld drill or screw gun, simply to attach the feet to the base of the screen itself. Handheld screwdrivers can do the job but to make assembly much quicker and easier, a screw gun is best.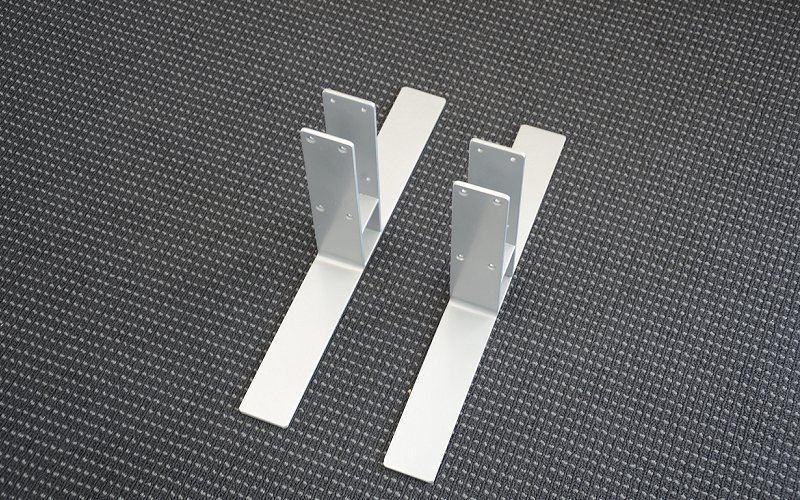 Feet are provided boxed separately. As you can see they're universal, and fit either way, left or right.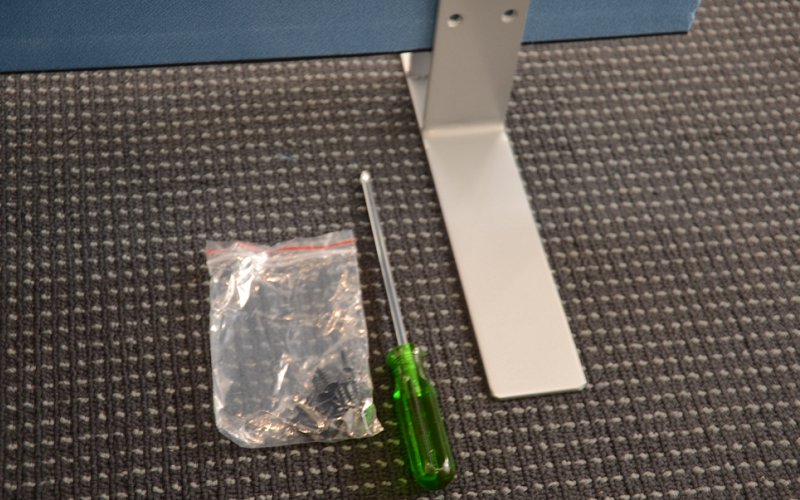 Attaching the feet is very easy, all screws are provided. Just use a screwdriver to attach the feet where desired. You may want to measure in from each side to ensure they're centred.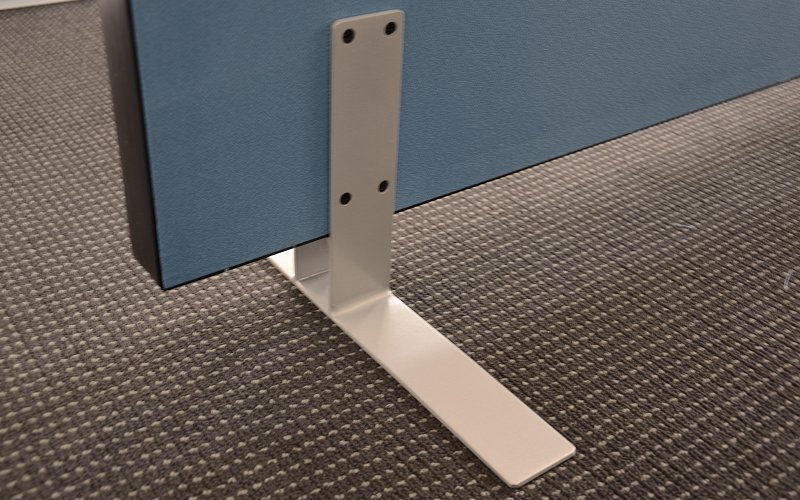 The image above shows the finished product.

What fixtures and fittings are provided?
We supply everything you need in order to completely assemble the divider screens. You wont need to purchase anything once the units arrive.

Assembly instructions
The units don't come pre assembled but assembly is very easy.
We supply all necessary instructions in an easy to follow instructional reference sheet, similar to what you might get when buying a piece of furniture from Ikea.

Assembly time
Attaching the feet to each divider takes no more than 5 minutes at most per divider screen.

Delivery
Much like assembly, we also receive a large number of questions that touch on delivery times. When it comes to the free standing divider screens, here are some of the most common.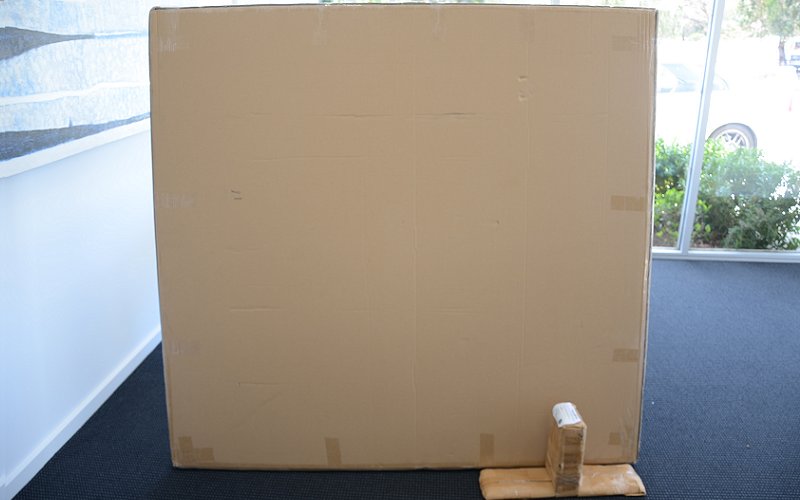 Here's what to expect when your divider screens arrive. As you can see, extra care is taken to ensure the screens are packaged in a way that protects them during transit.

How long will it take before we receive our divider screens?
Obviously delivery times vary depending upon where you're located, however for all metro areas, we usually estimate anywhere between 2-5 working days. Occasionally delivery times vary depending upon where we have available stock also, but if we think there will be any potential delays, we'll be in touch to inform you ahead of time.

Can you get my order out via express post or courier?
We can, if possible work with our customers if necessary to offer priority shipment and delivery. This isn't always possible so its best to contact us ahead of time before making purchase for assistance. Express deliveries typically work on a case by case basis.

Damage in transit
If for any reason you receive your divider screens and they've been damaged in transit, then simply send us a photo and we will work with you to resolve the matter. Typically we send out replacements without any hassles. It should be noted that this rarely happens.

Warranty
Our free standing divider screens come with a 5 year warranty

Discounts for bulk orders
Discounts for larger orders are handled on a case by case basis.
Generally speaking we will provide a quote to the customer depending upon how much stock they're looking for and where they are located.

Get Your Screen Dividers and Office Partitions at the Best Price
Being an online store (with no physical store) we can offer the absolute best price on top quality office equipment. We are so dedicated to giving you the best value for money, we will actually match any price you find for the same equipment at a lower price. Our products are also 100% sourced from Australian suppliers, meaning that you're not only getting exceptionally well made, durable furniture, but you're supporting local businesses as well.
Delivery to selected metro areas in Melbourne, Sydney, Brisbane & Perth is free, and you can contact us with any questions about our office furniture range or general enquiries through our support team via phone, live chat or email.
We look forward to doing business with you.
---