Office Stock Express Corner Office Workstation Desk Review



The Express Corner Work Station is one of our best selling products, thanks to its flexibility, good looks and durability. It is the ideal option for your corporate or office space, or as the key piece of furniture in a home office or for a child's study space.
Because of the every changing nature of the workplace today, desks need to be module and come with a range of options that can be mixed and matched.
Why are our Express Corner Workstation Desks so Popular?
We've sold thousands of desks to all types of customers, from big business, government, law enforcement and educational facilities, as well as to people working from home. This is because the Express Corner Workstation Desk is:
Modular and flexible, with many different sizes and configurations
Designed to fit many awkward spaces
Made out of melamine, which is hard wearing, looks good and is easy to maintain
Available with either a wheeled or fixed set of two, three, four or six drawers
Perfect for hiding cables from computers and other electronics as it has a convenient cable hole in the back corner with a cup for easy access
Available in four attractive colours – Beech/Ironstone, Cherry/Ironstone, grey and white
Ideal for corporate office environments, home offices or child's study areas
If you're looking for a desk that will adapt to your requirements, will look fantastic in an office or home environment, and is guaranteed to be long lasting and durable for many years, choose the Express Corner Workstation.
Frequently Asked Questions about our Corner Workstations
Because our Express Corner Workstations are so popular, we receive many questions about them, everything from what they're made out of, weight restrictions, colours and care instructions.
We've included some of the most frequently asked questions below, to give you a better understanding of the workstation and hopefully answering anything you may have been wondering before purchasing it. If there's anything we haven't covered here, please contact us and we'll be happy to help.
I want a 1800 x 1500 Desk. Can I put the longer side on the left/right?
Short answer: yes you can.
Getting a desk to fit into a particular space can be a challenge, and one of the reasons our Express Corner Workstation Desk is used throughout workplaces and homes across Australia is that it is flexible. The desk comes with a 900 millimetres x 900 millimetres centrepiece, with a return on either side, and these can be moved around to fit the space you have and how you want to work.
What Drawer Options go with the Desk?
You can have the option of including drawers with your Express Corner Workstation for an additional cost.
You can either choose to have a mobile pedestal, which is on caster wheels so it can be wheeled around, which comes in a two drawer, three drawer or four drawer option. There is also the option of having a fixed set of six, three or two drawers which attach underneath the return. These are screwed directly into the underside of the desk, and can be positioned on either the left or right hand side.
How Strong is the Desk or Does it Have a Weight Rating?
While it is recommended that the Express Corner Workstation can hold up to around 100 kilos in weight safely, it may be hold heavier objects, depending on the weight distribution and location.
If you have a specific requirement for equipment or other items such as medical devices, photocopiers and printers, please let us know and we can advise you on weight restrictions.
How Thick is the Table Top?
The Express Corner Workstation Desk comes with a standard 25 millimetres thick commercial grade table top, and the side panels are 18 millimetres thick.
What is the Desk Made out of?
The desk is made from melamine, which is a manmade material that is very strong and durable, even after years of commercial use. It's also known for its heat resistant properties, and won't warp or fade over time. Melamine desks provide the perfect hard wearing and long lasting surface, and they are easy to keep clean and looking good for many years. While they are water resistant, you should clean any spills up that may occur as quickly as possible with a clean cloth.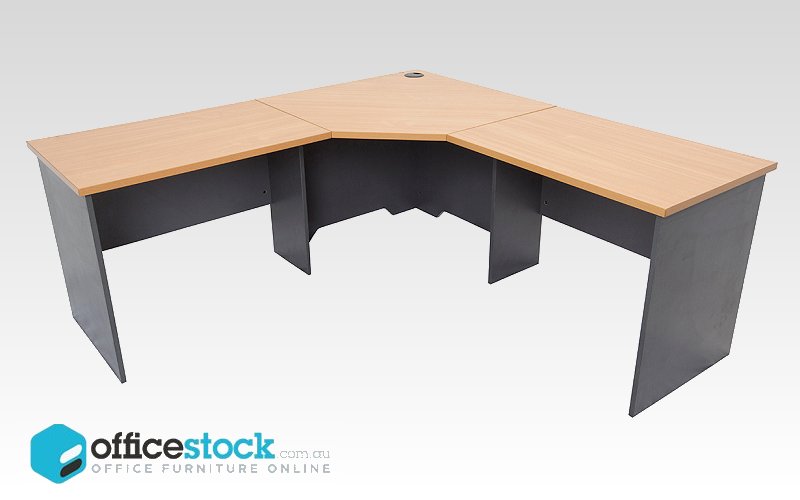 What Colours Does the Express Corner Workstation come in?
Our most popular colours of Beech/Ironstone and Cherry/Ironstone are available in all size options. The grey or white colour option is available only in the 1800 x 1800 x 600 millimetre desk size. We do not do custom colours.
Assembly
Let's take a look at some of the most common questions people ask about putting their Express Corner Workstations together.
How Difficult is Assembly?
Once you receive your flat pack of your Express Corner Workstation desk, assembly is easy – all you'll need is a Philips head screwdriver and everything else is included. We've made sure all of our office furniture can be put together quickly and with no hassle. One person will be able to assemble the desk by themselves.
What Fixtures and Fittings are Provided?
We supply everything you need in order to completely assemble the Express Corner Workstation. You will just need a Phillips head screwdriver, and won't need to purchase any additional tools, fixtures or fittings.
Assembly Instructions
While the desks don't come pre-assembled, assembly is very easy. We supply all necessary instructions in an easy to follow instructional reference sheet, which is similar to the ones you might get when buying a piece of furniture from Ikea.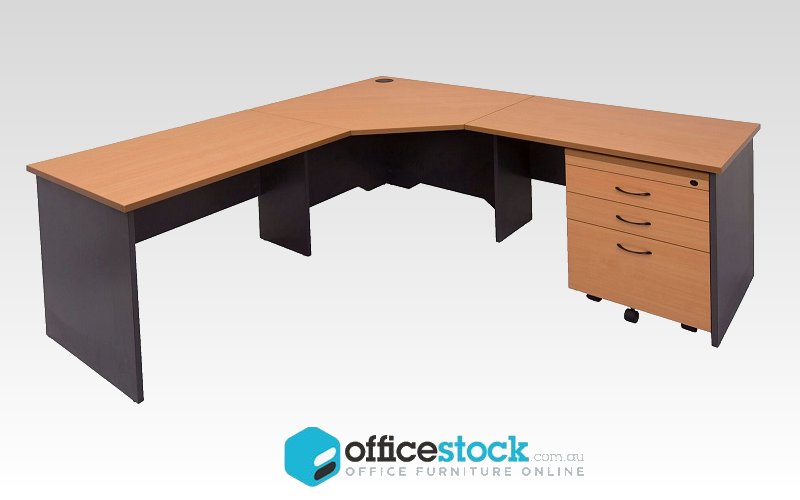 Assembly Time
Assembly of the desk will take around 15 minutes.
Delivery
Let's look at some of the more common questions we receive about delivery of the Express Corner Workstation Desk.
How Much Does Delivery Cost?
Costs for delivery will vary based on your location, however as a rough guide In most metro areas if the order is under $500 it will be $39 delivery. For any orders over $500 it will be free to most metro areas.
How Long will it take Before I Receive my Desk?
Obviously delivery times vary depending upon where you're located, however for all metro areas, we usually estimate anywhere between 2-5 working days. Occasionally delivery times vary depending upon where we have available stock also, but if we think there will be any potential delays, we'll be in touch to inform you ahead of time.
Can you Send my Order out via Courier or Express Post?
Where possible, we will try to fit in with any special requests in relation to priority shipment and delivery. Occasionally we will not be able to fulfil such requests so it is always best to contact us with any enquiries you have.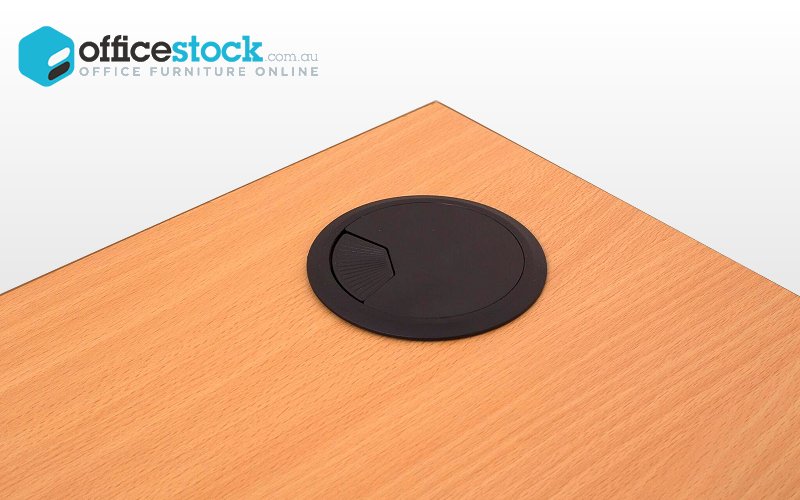 What is the Warranty?
Our Express Corner Workstations come with a standard 5 year warranty.
Damage in Transit
If for any reason you receive your office desk and it may have been damaged in transit, then simply send us a photo and we will work with you to resolve the matter. Typically we send out replacements without any hassles. Please note that this rarely happens.
Get Your Office Desks at the Right Price
Because we are an online store with no physical presence, we are able to offer you the best quality office furniture at the best possible price.
Our aim is to give you the best value for money, we will actually match any price you find for the same equipment at a lower price. When you buy products from us, you'll also know you're supporting local businesses, as we only use Australian suppliers.
Our delivery to selected metro areas in Melbourne, Sydney, Brisbane & Perth is completely free, and you can contact us with any questions about our office furniture range or general enquiries through our support team via phone, live chat or email.
Contact us now – we're looking forward to speaking to you.
---